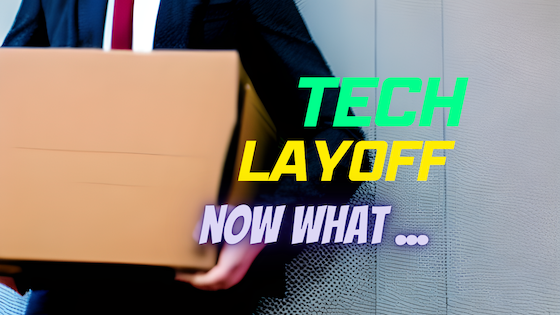 Some Ideas on How to Come Back Stronger After a Tech Layoff
Tech companies are laying off brutally. If one company struggles and lays off, then it is one thing, but when many big tech companies start to lay off brutally, that is another thing. The reasoning behind these workforce reductions follows the citation of the economy, profitability, or maybe making investors happy.
Here is my video on returning stronger after a tech layoff.
Today, I will also outline what someone can do if they are a victim of tech layoffs in the space below. The summary is to convert your frustration and struggle into a productive one. I am giving these suggestions as an academician. Therefore my suggestions will revolve around academia.
Suggestion # 1
If you are a software engineer or your expertise is one generic technology area, take the time that has cleared up from your schedule as a gift to learn something new. You will be surprised how much you can learn in one or two months. Online resources are enormous in modern days. Learn data science, learn cybersecurity, learn about blockchain technology, learn about a new set of algorithms, and develop niched expertise. Use Udemy, Coursera, and the enormous number of YouTube channels to gain new technology skills to fight back stronger in the job market.
Suggestion # 2
If you do not have a master's degree or higher, you can use the time to earn a higher degree or at least a graduate-level certificate. If you already have a master's degree, you can consider pursuing a Ph.D. degree. Getting another degree or certification is time-consuming; you cannot do it within a month or two. This is why you may not like this suggestion, but you must realize that this big layoff event has become a culture in the tech industry. The number of job cuts within almost a year has crossed 100,000. Such massive tech layoffs will create new instability in the job market. You will need to come back stronger with something new if you want to return to the tech industry. Note that many others will come back stronger than they were before. Therefore, the competition will become fierce.
Suggestion # 3
If you already have a Ph.D., you have the expertise, knowledge, and myriad of experience due to which you will probably struggle less in seeking a new venture. Let me tell you one thing… When the country goes through economic turmoil, sometimes academia thrives. If you have an interest in research and teaching, look at the job posts on CRA, which lists academic jobs relevant to computing disciplines, a.k.a; tech areas. Another site for academic job search is HigherEdJobs. Universities might be interested in hiring faculty members with industry experience. Also, consider government jobs at the national laboratories. National laboratories are always in search of talented people like you. But of course, it is hard for the federal labs to compete with tech giants regarding salary. However, one thing government jobs and universities offer is — stability compared to industry jobs.
These are just a few suggestions if you are in the United States.
I hope everyone overcomes all the job-related obstacles.